Anthony's Memory Game - 40 Pieces, 20 Pairs!
Beyond the book learning is made fun with Anthony's Memory Game. With 40 pieces, 20 pairs, this game is fun for the whole family! The 2x2" game cards use some of our favorite illustrations from the books, allowing for endless memory matching fun! Make the game easier for young learners by reducing the number of pairs used during play.
Ages 3+ | 2-4 Players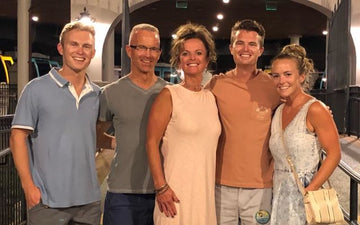 About the Authors
Hi! We're the Wagner family and we're so excited to share our series with you! We started with one book in 2014, originally meant to be a fun family project, never imagining what our series would grow to look like today!
Now we're on a mission to create a series your kids (or grandkids) can grow up with. We want Anthony the Mouse to be a cherished, memorable part of their childhood.
Our midwestern family values are evident in our books. You won't find any political or idealogical topics. These are books for kids. They're meant to be fun, a tiny bit educational, and most importantly, to inspire imagination!
Thank you for supporting our family project and business. We hope you and your little ones love your books and Anthony the Mouse!

Sincerely,
The Wagner Family
Kurt, Tina, Jake, Ciarra & Kole